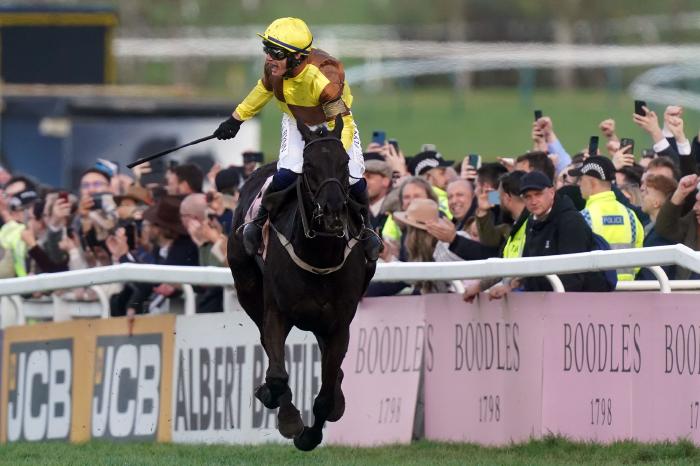 The recent Cheltenham Festival rounded off an exciting first quarter of 2023 that saw a wide array of horse racing services achieve a remarkable level of success on Tipstrr.
Tipstrr's quarterly rankings provide us with a more rounded look at the longer-term capabilities of our top-performing services, kicking off with our top ten horse racing tipsters throughout the first three months of the year.
Just click on the links for more information about each tipster, and for details of any trial deals that are currently on offer.
394 tips, 31.9% ROI, £2,511 profit
Most of our top ten will need little introduction to most of you, and arguably least of all Underdog Racing Tips whose eye for each-way outsider value quickly established him as one of our most popular services for most of his three-and-a-half tenure on Tipstrr.
His £2.5K in profit since the turn of the year is just a continuation of a relentless climbing profit line, thanks to an overall 35% place rate at average odds exceeding 16/1 that has earned a mammoth £57K from all of his 3900 selections since 2019.
139 tips, 37.3% ROI, £1,037 profit
In ninth place, The Banker has been on the Tipstrr site even longer than Underdog, and although he offers a completely different betting strategy, the overall upward trend remains just as impressive.
Averaging just one or two race-winner tips per day, all published around 9pm the night before racing, makes betting straightforward and easily manageable.
Such is the robustness of this service that it even overcame a rare monthly drawdown in February to maintain that overall quarterly yield of 37% and over £1K in profit.
8th 1 Bet a Day Advisory Service
93 tips, 37.8% ROI, £702 profit
If manageability is what you're looking for, then the no-nonsense service of 1 Bet a Day Advisory Service does exactly what is says on the tin, offering just one carefully-selected tip per day.
Narrowing the daily field to just one one-the-nose selection is no easy task, but 1 Bet A Day has combined discipline with expertise to enjoy four straight monthly gains, thanks to a stunning 38% win rate that has converted average advised odds of around 9/2 into some serious long-term gains.
222 tips, 46.3% ROI, £2,055 profit
If you enjoy the thrill of betting on large-priced outsiders, then BigOddsValue should happily tick all the right boxes as he approaches his first full year of service.
Since overcoming his only negative returns either side of the new year, BOV has surged back to form in impressive style, backing up February's 60% gain with a whopping 139% monthly yield in March.
Notable winners included Faivoir advised at 66/1 in the County Hurdle at Cheltenham, plus two other 25/1 shots and a plethora or each-way places to boot.
76 tips, 48.3% ROI, £734 profit
After hitting the ground running this year, it is no surprise to see each-way specialist Won Racing Tip making our top six.
Providing just one ''nap'' selection per day from those published by his premium stablemate Read Between The Lines, this best-bet approach has been rewarded with a recent surge in profits, bouncing back from a below-par end to 2022 to land mouthwatering monthly yields in January (60%), February (46%) and March (37%) to enjoy his steepest-climbing profit line yet.
206 tips, 54.0% ROI, £2,222 profit
They say a change is as good as a rest, and the recent decision of Each Way Value Tips to increase his daily volume from a rigid one-per-day to a more substantial three or four has really begun to pay dividends.
The year might not have started as he would have wanted, but since the change EWVT has featured on our monthly leaderboards in both February (8th with 55% ROI) and March (5th with 73% ROI), to convert a downward dip in January into a tasty 54% quarterly yield that has landed over £2K to level £20 stakes.
322 tips, 54.9% ROI, £3,538 profit
Another three-year veteran on the Tipstrr platform, 365 Tips offers an eye for outsider value that is all the more impressive for the fact that his tips average advised odds of around 11/1, but are race-winner bets that do not offer (or benefit from) an each-way safety net.
A 13% win rate means that followers have to expect around six losers to every winner, which takes some patience and discipline, but three profitable months and over £3.5K in profit so far in 2023 suggest that those winners are well worth waiting for.
197 tips, 61.7% ROI, £2,429 profit
Our first podium position is occupied by Statometer who provides a diverse mixture of race-winner, each-way and exotic multiple bets.
Even a rare dip in form in March failed to put too much of a dent in an impressive first quarter that kicked off with a tasty 90% monthly yield to earn Statometer the runner-up spot among January's best tipsters.
Those tasty results were promptly exceeded the following month, when he won February's Best Tipster accolade with a huge 116% gain to lock in well over £2K in quarterly profits.
138 tips, 70.1% ROI, £1,933 profit
Our quarterly runner-up is HorseForaCourse, who also had to settle for bridesmaid roles in our monthly listings for both February (second with 78% ROI) and March (third with 106% ROI).
Those numbers give an illustration of H4AC's consistent service which covers both race-winner and each-way selections in around a 60/40 mix at mid-market average odds of around 10/1.
While his three-month 70% is evidently eye-catching, a 12-month record of 41% ROI and nearly £7K in profits give a clearer illustration of his long-term capabilities.
208 tips, 82.8% ROI, £3,446 profit
Offering a diverse mix of race-winner, each-way and multiple variations, The Daily Punt has deservedly emerged as our best tipster so far in 2023.
Multiple bets might not appeal to all betting tastes, so it is worth pointing out that his 21% win rate across 120+ race-winner tips has also maintained a commendable flow of profit throughout the last three months.
However, it is when those tips are combined successfully into multiple bets, especially trixies, that The Daily Punt has made his service stand out from the pack. In March, for example, not only did Alberts Back (15/2), No Regrets (6/1) and Easy Street (9/2) land decent profit as singles, but when combined in a trixie, they made up a major chunk of the £3.4K that TDP has earned so far this year.
So, it's clearly been an incredible start to 2023 for anyone following those top ten performers, who have yielded well over £20K between them in quarterly gains to level £20 stakes.
Well done again to The Daily Punt for heading such an impressive group, and we hope there's enough in the above list to allow you to make an informed decision when considering tipsters who have shown they are capable of performing profitably over an extended period.
Please note: Tipstrr users who have previously enjoyed a trial with a service are no longer eligible for any trial period offered by the same tipster.
Profits calculated to level £20 stakes