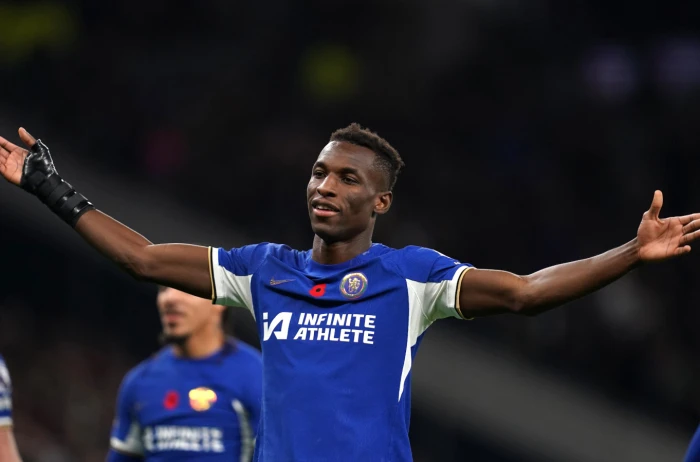 It wasn't such a fruitful time in week3 of our prediction competition, with only a handful of entrants managing to predict more than half of the outcomes, while correct scores were at even more of a premium.
Only our weekly winner, Steven McIntyre managed to call three scorelines correctly, and his 11-point tally was enough to earn this week's first prize of a £250 free bet with Planet Sport Bet.
WEEK THREE TOP 3 SCORES
11 pts Steven McIntyre (3 correct scores, + 2 outcomes)
9 pts Sam Jones (2 correct scores, + 3 outcomes)
9 pts Ian Bradley(2 correct scores, + 3 outcomes)
That first prize went towards more than £1000 in free bets won by all the people who managed to outscore Planet Sports Bet's ambassador, Robbie Savage, who only managed to accrue a couple of points in an overall low-scoring week.
To find out how you measured up then just visit the leaderboard page here for all the latest weekly and overall updates.
TEAM SCORES AFTER 3 WEEKS
21 pts Robbie Savage (4 correct scores, + 6 outcomes)
19 pts Planet Sport (2 correct scores, + 13 outcomes)
17 pts Tipstrr (2 correct scores, + 11 outcomes)
17 pts Football365 (1 correct scores, + 14 outcomes)
16 pts TEAMtalk (0 correct scores, + 16 outcomes)
The competition remains open to all for Week 4, which gets under way when Tottenham's lunch-time clash with Wolves kicks off at 12.30pm on Saturday .
The best qualifying entrant this week will once again bag themselves a tasty £250 free bet with Planet Sport Bet, while all eligible entrants who score more points than Robbie Savage will earn themselves a free £5 bet.
Entry remains dead easy and completely free, and all details can be found here
Week 2 predictions
The predictions of the five teams are listed below, so if you think you can outscore them, then just visit the competition page to enter you own predictions.
Wolves v Tottenham Hotspur
Tipstrr: 1-2
Robbie: 2-1
Planet Sport: 1-3
TEAMtalk: 1-2
Football365: 2-1
Wolves recent progress came to a grinding halt when they went down 2-1 at Sheffield United last weekend, and Gary O'Neil will be looking for an immediate response against their high-flying visitors.
The wheels came off Spurs' title challenge on Monday, when two red cards proved too much of a burden against a grateful Chelsea, but an unruffled Ange Postecoglou should regalvanise his team to impose their class at Molineux..
15/2 Correct Score 1-2
11/10 Spurs win
Arsenal vs Burnley
Tipstrr: 3-0
Robbie: 3-0
Planet Sport: 3-0
TEAMtalk: 3-0
Football365: 3-0
Arsenal's unbeaten start was ended by last weekend's 1-0 defeat at Newcastle, and coming straight after their League Cup exit at West Ham, Mikel Arteta will see Burnley's visit as a good chance to rekindle their title hopes.
Burnley's early-season woes continued when last week's 2-0 home defeat to Crystal Palace was their fourth straight league loss, and it will be a major shock if that is not extended to five on Saturday afternoon.
11/2 Correct Score 3-0
1/6 Arsenal win
Crystal Palace vs Everton
Tipstrr: 2-1
Robbie: 2-1
Planet Sport: 1-1
TEAMtalk: 0-0
Football365: 1-2
On paper Crystal Palace should be relegation candidates, but they continue to punch above their weight and Saturday's visitors represent another opportunity to cement their mid-table position.
Ten points from six games has helped drag Everton away from the relegation zone, but they still appear to be a work in progress under Sean Dyche and this looks just the kind of game that leaves the Toffees' boss scratching his head.
17/2 Correct Score 2-1
7/5 Palace win
Manchester Utd vs Luton Town
Tipstrr: 4-0
Robbie: 2-0
Planet Sport: 2-1
TEAMtalk: 1-1
Football365: 2-0
United played arguably their best football of the season on Wednesday until Marcus Rashford's red card saw their trip to Copenhagen go pear-shaped, with their third Champions League reversal adding to the five EPL defeats they have already suffered this term.
Even though United's recent victories have needed late winners to paper over the cracks, and despite Luton arriving with justifiable optimism after last week's 1-1 draw with Liverpool, we expect the Hatters to be on the receiving end of a backlash from their wounded hosts.
14/1 Correct Score 4-0
3/10 Man Utd win
Bournemouth vs Newcastle Utd
Tipstrr: 1-3
Robbie: 0-1
Planet Sport: 0-2
TEAMtalk: 1-2
Football365: 1-1
Bournemouth broke their duck against Burnley too weeks ago, but they have looked out of their depth against bigger teams and we expect no surprises here against high-flying Newcastle..
The elation of Newcastle's 1-0 win against Arsenal last week was somewhat deflated when they lost 2-0 at Dortmund in midweek, but Eddie Howe will be demanding an immediate response to maintain the Magpies' push for the top four.
10/1 Correct Score 1-3
4/6 Newcastle win
Aston Villa vs Fulham
Tipstrr: 2-0
Robbie: 2-0
Planet Sport: 3-1
TEAMtalk: 1-1
Football365: 2-0
Villa Park has become a fortress of late, and they have scored 13 goals in the last three of their 12 consecutive home wins.
Fulham's arrival looks unlikely to end that sequence, and even though they have showed some resilience on their travels this term, they will have their work cut out to keep Villa at bay on Sunday..
7/1 Correct Score 2-0
4/7 Villa win
Brighton vs Sheffield Utd
Tipstrr: 1-0
Robbie: 3-1
Planet Sport: 3-0
TEAMtalk: 2-0
Football365: 2-0
Brighton were scoring goals for fun when winning five of their first six games, but both the goals and the points have dried up in five winless games that have accrued just three drawn points.
Sheffield United ended their nightmare start with last weekend's late winner against Wolves, but they still face an uphill battle for top-flight survival, and we expect them to end up on the wrong side of a tight outcome on the south coast.
9/1 Correct Score 1-0
2/9 Brighton win
Liverpool vs Brentford
Tipstrr: 2-2
Robbie: 3-1
Planet Sport: 2-1
TEAMtalk: 3-1
Football365: 3-0
Liverpool needed a late equaliser to avoid an unlikely scare at Luton last week, but they remain in good form despite looking prone to conceding goals when their back line is put under pressure..
Brentford's open brand of football suggests they are the kind of team to do just that, and we expect an entertaining game to stall the home team's title push..
14/1 Correct Score 2-2
4/1 Draw
West Ham Utd vs Nottingham Forest
Tipstrr: 2-1
Robbie: 2-1
Planet Sport: 1-1
TEAMtalk: 2-2
Football365: 1-2
Three straight league defeats have put the brakes on West Ham's promising start, and they might just be feeling the strain of their midweek cup exertions..
Forest ended a six-game winless streak with last week's timely 2-0 win against Aston Villa, but their only defeats in that run came at the hands of Manchester City and Liverpool, so they are likely to give their hosts plenty to think about on Sunday.
7/1 Correct Score 2-1
10/11 West Ham win
Chelsea vs Manchester City
Tipstrr: 2-4
Robbie: 1-1
Planet Sport: 0-2
TEAMtalk: 1-3
Football365: 0-1
Chelsea gleefully took advantage of two Tottenham red cards to land an action-packed 4-1 win on Monday night, which was enough for them to squeeze into the top half of the table.
If they decide to go toe-to-toe with Manchester City then we could be in for another high-scoring thriller, as the Treble winners arrive at Stamford Bridge after scoring 17 goals in five straight victories.
35/1 Correct Score 2-4
3/4 Man City win
All betting prices provided by Planet Sport Bet and were correct at the time of writing.
Entry remains dead easy and completely free:
Log in or register to take part
Select

Tipstrr

from the Referrer dropdown box (we want you on our team!!)
Make your Correct Score prediction for each listed game
Submit your entry
Scoring
For every score that you predict correctly you will be awarded 3 points, while a single point will be gained for every correct match outcome (ie Home win, draw, away win).
The competition leaderboard will update after each round of games, and there will be regular weekly updates so that you can track and compare your progress.