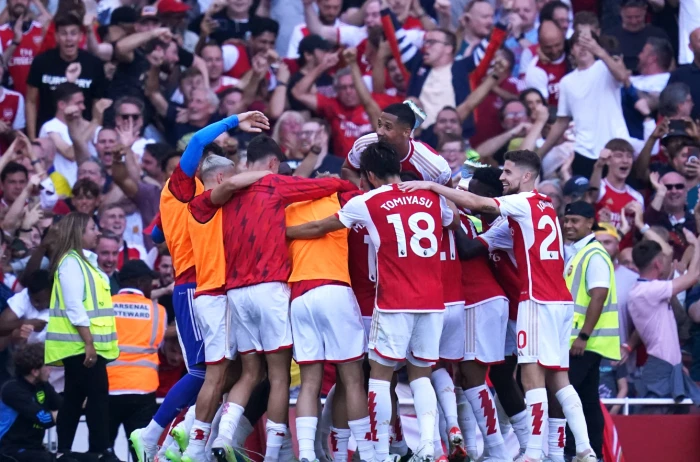 Now that we've put the first international break of the season behind us, we can get to grips with the more important business of our weekly Premier League prediction competition!
Before the break, Tipstrr enjoyed our best week yet, correctly predicting eight results, including calling the correct score of Arsenal's dramatic 3-1 victory over Manchester United, to match the ten points scored by Planet Sport Bet ambassador Robbie Savage, who managed two correct scores and four other outcomes.
WEEK FOUR SCORES (Correct Scores, + outcomes)
10 pts Robbie Savage (2 x 3, +4)
10 pts Tipstrr (1 x 3, +7)
8 pts Football365 (2 x 3, +2)
4 pts TEAMtalk (0 x 3, +4)
OVERALL SCORES (after 39 games)
38 pts Robbie (7 x 3, +17)
30 pts Tipstrr (3 x 3, +21)
30 pts Football365 (6 x 3, + 12)
25 pts TEAMtalk (3 x 3, +16)
There's no Friday fixture this week, which means the action starts when Wolves host Liverpool in Saturday's lunch-time kick-off, when a decent win would help the Reds leapfrog Manchester City (albeit possibly briefly) at the top of the table.
Tipstrr prediction: Wolves 0 Liverpool 3
Robbie: 0-2
TEAMtalk: 0-2
Football365: 0-2
Wolves opened their account at Everton three weeks ago, but the defensive lapses in their 3-2 defeat at Crystal Palace just before the international break suggests they will have trouble containing Liverpool's potent attack here.
After their Darwin Nunez-inspired smash-and-grab at Newcastle, Liverpool made short work of Aston Villa last time out, and the way the Reds are beginning to gel does not bode well for their hosts here.
9/1 Correct Score 0-3
2/5 Liverpool win
Tipstrr prediction: Aston Villa 2 Crystal Palace 0
Robbie: 2-1
TEAMtalk: 3-1
Football365: 2-1
While humbling defeats at Newcastle and Liverpool highlighted that Aston Villa are still a work in progress under Unai Emery, they have turned Villa Park into a fortress off the back of nine straight competitive home wins.
Despite useful wins against strong relegation candidates, Sheffield United and Wolves, Palace manager Roy Hodgson is wily enough to know that a difficult campaign lies ahead, and it is away trips like this that will provide a measure of their progress.
8/1 Correct Score 2-0
10/11 Aston Villa win
Tipstrr prediction: Fulham 2 Luton Town 1
Robbie: 3-0
TEAMtalk: 3-0
Football365: 2-2
Fulham's 5-1 loss at Manchester City last time out belies the fact that they held their own until City's disputed second goal, and the Cottagers have shown enough in other games to suggest they should have the measure of Luton here.
After kicking off their fairytale climb to the Premier League with three straight defeats, the Hatters are likely to go into virtually every match this season as the underdog, and it's hard to see them picking up many away points this season.
7/1 Correct Score 2-1
13/20 Fulham win
Tipstrr prediction: Manchester Utd 2 Brighton 2
Robbie: 1-2
TEAMtalk: 2-3
Football365: 1-1
After two pointless trips to London, United are already somewhat under the cosh, and against Brighton they will need to be more on their game than when struggling to odd-goal wins over Wolves and Forest in their two home games to date.
Brighton memorably won at Old Trafford on the opening day of last season, and as the Premier League's current top scorers, the Seagulls will again give the home defence plenty to think about, and an entertaining score-draw looks on the cards.
9/1 Correct Score 2-2
14/5 Draw
Tipstrr prediction: Tottenham 5 Sheffield Utd 0
Robbie: 2-0
TEAMtalk: 4-1
Football365: 3-0
The arrival of Ange Postecoglou and the departure of Harry Kane appears to have been the perfect recipe for an exciting new brand of football for the Tottenham faithful to enjoy, and that impressive form is likely to continue against struggling Sheffield United.
After three straight defeats, the Blades were good value for their first point in a 2-2 home draw with Everton, but that already had the feel of a relegation six-pointer, and this trip to London is likely to highlight the task that lies ahead.
22/1 Correct Score 5-0
1/4 Tottenham win
Tipstrr prediction: West Ham Utd 1 Manchester City 3
Robbie:0-2
TEAMtalk: 2-3
Football365: 1-3
West Ham have already emerged as one of the season's surprise packages, and the manner in which they disposed of Chelsea and Brighton suggests this game will be as big a test for Manchester City as for the Hammers.
The champions usually drop points early in their campaign, so their 100% start does not bode well for their rivals. This could provide their sternest challenge to date, especially straight off an international break, but they have the strength in depth to carve out another win at London Stadium.
9/1 Correct Score 1-3
40/85 Manchester City win
Tipstrr prediction: Newcastle Utd 2 Brentford 1
Robbie: 1-1
TEAMtalk: 3-1
Football365: 3-1
One win and three defeats was not in the Newcastle United script, and they already face a long hard climb to the top four. They were well beaten at Brighton, and Brentford represent a similar challenge that the Magpies will have to dig deep to overcome.
Brentford are one of just six unbeaten teams after four games, and their bright brand of football should provide a pleasing watch, although we expect their trip to St James's Park to fall just short against the wounded Magpies .
13/2 Correct Score 2-1
1/2 Newcastle win
Tipstrr prediction: Bournemouth 0 Chelsea 2
Robbie: 0-1
TEAMtalk: 2-2
Football365: 2-1
Although winless after four games, Bournemouth's defeats to Liverpool and Spurs might well have been expected, while their hard-earned draws against unbeaten West Ham and Brentford showed there is some resilience in the Cherries' camp.
Chelsea's stuttering revival ground to a complete halt in their shock 1-0 home defeat to Nottingham Forest last time out. Mauricio Pochettino will be demanding a response, and this trip to the south coast represents a perfect opportunity to bounce back.
17/2 Correct Score 0-2
3/4 Chelsea win
Tipstrr prediction: Everton 1 Arsenal 3
Robbie: 0-2
TEAMtalk: 0-2
Football365: 1-4
After three goalless defeats, Everton's 2-2 draw at Sheffield United just before the international break offered Sean Dyche some welcome relief that is unfortunately likely to be short-lived with the arrival of title-chasing Arsenal at Goodison Park.
The Gunners bounced back in style from their 2-2 stumble against Fulham, and the manner of their late late show to beat Manchester United 3-1 should give Arsenal the impetus they need to string a good run of results together.
10/1 Correct Score 1-3
1/2 Arsenal win
Tipstrr prediction: Nottingham Forest 2 Burnley 0
Robbie: 1-0
TEAMtalk: 2-1
Football365: 2-1
Forest have shown their mettle already this season, coming close at Arsenal and Manchester United, winning their only home game so far against Sheffield United, and then snatching three bonus points from their shock 1-0 win at Chelsea.
It hasn't been so good for Burnley, who have looked out of their depth in conceding 11 goals in their three home losses to Manchester City, Aston Villa and Spurs. Any hopes of being more effective on the road are likely to be scuppered by a Forest team buzzing with confidence.
9/1 Correct Score 2-0
11/10 Nottingham Forest win
All betting prices provided by Planet Sport Bet and were correct at the time of writing