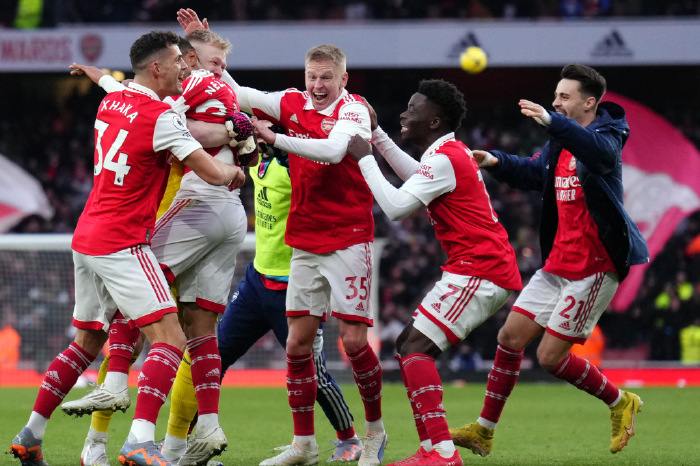 It's been a hectic first quarter of 2023 for the footballing world, which means that our ever-increasing number of football tipsters have been kept busier than ever in providing their best value bets.
Many of them have maintained an impressive level of consistency over the first three months of the year, and we've put a selection of them together for you in our Best Football Tipster rankings, all listed for your convenience to allow you to make an informed decision about which services are more than just a one-month wonder.
Just click on the links for more information about each tipster, and for details of any trial deals that are currently on offer.
485 tips, 10.1% ROI, £982 Profit
Leagues: Various Market: 1X2
We're not quite sure what the letters GSHA stand for, but in betting terms they appear to stand for a good financial investment but that matters little to anyone who has followed this bustling service since the turn of the year.
A 49% win rate from almost 500 1X2 selections gels nicely with average odds of around 7/5 to produce three straight profitable months so far in 2023 for a service that seems to know its way around the English football betting markets.
814 tips, 13.9% ROI, £2,260 Profit
Leagues: Low tier Market: Both Teams To Score
Any service that suffers just one losing month out of 14 deserves our attention, and Lulas BTTS has certainly made an impact since first appearing on Tipstrr in February last year.
An eye for value in the Both Teams To Score market is the foundation of this increasingly popular service, and although his output might be a little prolific for some betting tastes, three profitable months and a quarterly yield just shy of 14% suggests that bankroll management need not be an issue.
187 tips, 17.0% ROI, £634 Profit
Leagues: Various Market: Doubles (1X2 and AH)
One of the newer services to feature on this leaderboard, Mr Parlay has done enough in five short months to suggest that this shorter-term success could translate seamlessly into long-term profits.
Combining lower-yielding singles and converting them into higher-yielding doubles (or parlays) sounds simple enough, but any experienced bettor will understand that achieving a 37% win rate at average odds of more than 5/2 is no mean feat when employing that higher-risk strategy.
83 tips, 17.5% ROI, £291 Profit
Leagues: Various Market: Doubles (1X2 and AH)
Following a similar tactic, the recent success of AH Double Trouble only goes further to refute the argument that multiple bets are a mug's game.
Of course, it can be a bumpy ride at times, and this tipster suffered a losing first month of the year, but that was soon absorbed by February (19% ROI) and March (55% ROI) to flip that early loss into a 17.5% quarterly gain.
375 tips, 18.6% ROI, £1,394 Profit
Leagues: Various Market: Various
We sometime struggle to know where best to fit the multi-sport service of SVB Tips because this master of two trades has featured just as often in our horse racing rankings.
However, it has been the football part of his brain that has tuned in so far this year, and if taken in isolation, his 182 football tips boast an even more impressive 27% yield that makes up over £1000 of his total profit, thanks to a 44% win rate at average odds of almost 2/1.
633 tips, 19.8% ROI, £2,511 Profit
Leagues: Low-tier Market: Both Teams To Score
Although only on Tipstrr since July last year ChapolinNF has already made quite an impact within the Tipstrr community by kicking off his service with nine straight profitable months.
Also aimed at the increasingly popular Both Teams To Score market, CNF's tip volume will require disciplined betting, but bankroll management should be comfortable enough if he continues to average £700-£800 profit per months to £20 stakes.
97 tips, 20.6% ROI, £400 Profit
Leagues: Various Market: Fivefold accas
Another tipster who is not afraid to combine his selections into more lucrative fivefold acca bets is the aptly-named Speculate To Accumulator, who has topped our monthly rankings on several occasions, including most recently in March (83% ROI).
That profit spike helped overturn a less auspicious start to the year, but such is the nature of this high-tariff strategy that the eye-catching highs should continue to outweigh the shallower lows to maintain an overall upward trend
3rd Main Draws Model - Top Euros
74 tips, 28.7% ROI, £424 Profit
Leagues: European Market: 1X2 Draws
Our first podium spot is occupied by Main Draws Model - Top Euros, whose service does pretty much what is says on the tin, aiming to identify the best value in the knife-edge strategy of picking draws from the top leagues around Europe.
A low tip volume might struggle to satisfy some betting appetites, but then the old adage about quality beating quantity springs to mind, and there's little to complain about with three straight profitable months and a 28% yield so far this year.
269 tips, 29.0% ROI, £1,565 Profit
Leagues: Various Market: Both Teams To Score
Our top two tipsters could easily have been bracketed together, as we have done before in some of our monthly rankings, because our runner-up Star Tips a fuller version of its newer and less prolific sister service, Footy Star, who tops this leaderboard (see below).
Launched in September 2021, Star Tips is another to specialise in the Both Teams To Score market, and his ability to identify overpriced value for one of the two teams to keep a clean sheet has been rewarded with seven straight profitable months.
132 tips, 49.4% ROI, £1,304 Profit
Leagues: Various Market: Both Teams To Score
And so on to 2023's Best Football Tipster (so far) in the shape of the aforementioned Footy Star, who featured among 2022's Best Emerging Tipsters before topping our monthly rankings in January, and then finishing runner-up in both February and March.
Footy Star offers a stripped-down version of its longer-serving and more prolific sister service, Star Tips (see runner-up above) and is designed for people who prefer a more moderate betting volume.
Launched last May, Footy Star has lost nothing for providing a more selective output, with January (50% ROI), February (36%) and March (57%) combining to accrue a whopping 49% quarterly ROI and £1300 in clear profit since the turn of the year.
It's pretty clear that many of our leading football services are managing to sustain remarkable levels of profitable consistency and offer excellent long-term potential.
Well done again to Footy Star for topping such a high-quality honours board, and well done also to the many tipsters who are flying just below the radar of our shortlist, but who are showing the kind of consistency that should see them challenging for a top ten finish in the very near future.
Please note: Tipstrr users who have previously enjoyed a trial with a service are no longer eligible for any trial period offered by the same tipster.
Profits calculated to level £20 stakes